>
>
For The One That is Electrosensitive
For The One That is Electrosensitive
Give the Gift of Protection
What's included?
1 x EMF Shield
1 x Small Grounding Mat (with connectors to use both in your car, and in your home)
ENERGENTICS EMF SHIELD
NEUTRALIZE HARMFUL ELECTROMAGNETIC FIELDS
If you are serious about achieving and maintaining your best health, there are several steps you can take to minimize the effect EMFs have on you and your family. According to the World Health Organization, "Electromagnetic fields affect us because our human bodies have their own electric and biochemical responses such as nervous system, digestion, brain function, and heart function. Exposure to EMFs can interact with your body in many adverse ways."
Assist with shielding yourself from the harmful EMF signals and frequencies. The ENERGENTICS EMF SHIELD is a corrective, harmonizing resonance technology designed to assist the body with counter-balancing these negative "vibes" from computers, phones, microwaves, monitors, and Wi-Fi devices. Simply place the ENERGENTICS EMF SHIELD close to the power source to begin protecting you, and your family.
ENHANCES & SUPPORTS
The reduction of nervous system disruptions, like fatigue, stress & sleep disturbances
The reduction of eye irritations, such as burning sensations
The reduction of skin irritations, like facial prickling, burning sensations & rashes
The prevention of body disruptions, like pains & aches in muscles
SMALL GROUNDING MAT (With connectors for both CAR PAD and HAND/FOOT MAT)
Don't let getting from A to B, drive you round the bend. Introducing our Car Pads. These products are designed to gently discharge any electrical pulses you build up whilst travelling by car, making you feel more relaxed, alert and less fatigued.
The Car Pad is a simple conductive seat pad which gently drains off excess electrical charge from the body. This charge can cause much of the fatigue and stress related issues we encounter whilst driving. Conductive carbon particles built into the pad gently discharge any detrimental charges from the body into the cars chassis. The net result is a lower burden on the body's nervous system. Drivers report feeling calmer, more alert, and less fatigued whilst driving. Car grounding may even reduce symptoms that electrically sensitive individuals typically experience in the car.
Features of the Car Pad/ Mat
Easy to fit.
Helps keep you calm and focused at the wheel.
Helps to prevent fatigue and aches caused by long journeys.
Uses a coiled stretchy cable for safety.
Is compatible with all makes and models of car.
Also comes with 15ft straight cable so you can use the pad inside your home.
We would always recommend going hands free when making calls as this keeps the source of any harmful radiation away from your head. Going hands free and listening to music has just become even safer as our EMF Shield manages any electric fields and signals generated by your headphones and alters these into a safer form.
You might also like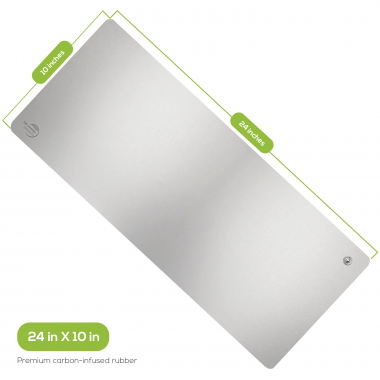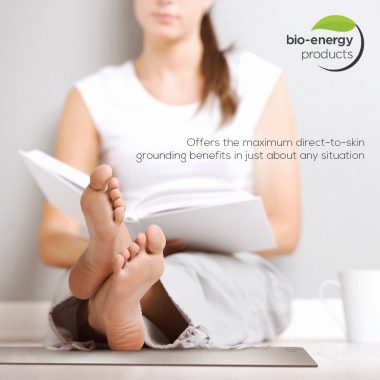 Best Sellers
Let Earthing sweep you off your feet! Our Grounding Foot Mats are the easiest and most flexible way of keeping yourself earthed. It's almost as easy as putting your feet up… Foot Mat Features: The solution to daytime and evening grounding, supporting daytime vitality. Easy to use and require no set up apart from plugging in. Unobtrusive, simply place your feet on the mat and you're earthed. Efficient and natural: The feet are the most sensitive part of the body when it comes to earthing. Our foot mats mimic how we would naturally earth ourselves by going barefoot. Ideal in the evening for resetting the melatonin (sleep) clock. Flexible - the foot mat can be used as a desk mat, can be sat on, lent on or used in any way you can think of. Compatible with grounding socks and can be used in conjunction with a cover for those who do not like rubber. Further information and sizes can be found below.
Related Products
Give the gift of Pain Relief. Our Grounding Patches are designed to be the last word in targeted grounding and anti-inflammatory treatment. The patches are perfect for dealing with localized issues such as arthritis, sprains and strains, torn muscles, damaged ligaments and aid in the treatment of fractures. Made of medical grade plastic and made to the highest of hygiene standards. The patches are single use and come in a standard pack of 50 units. This Pain Relief Christmas Gift Set Includes: 50 x Patches (with cable) for targeted healing 1 x Earthing Book Pain Diary (downloadable PDF will be emailed after checkout) Features of the Patches: Highly efficient targeted healing. Can be used anywhere on the body* Very easy to use. Provides a generalized grounding effect as well as localized healing. Can be used in conjunction with other grounding products. Multiple patches can be used at once and up to 4 patches can be run off a single plug with the use of splitters. Disposable, so no cleaning or specific care is required. Starter kits and patch refills are both available *External use only. Do not use on broken skin.
What is every athletes dream?...Fast Recovery! High intensity healing for the whole body. Our Recovery Bags combine high intensity healing with a whole body grounding experience. This high intensity level coupled with the generalized effect of the bag is perfect for treating chronic whole body conditions, as well as use by athletes looking to recover from heavy exertion in a short amount of time. Recovery Bag Features: Our Recovery Bags offer the ultimate in high intensity grounding. The bag encloses the entire body and provides a whole body grounding experience. Perfect for the treatment of sports injuries and for speeding up post work-out recovery – Grounding Recovery Bags have been regularly used by Tour-De-France riders to recover between the grueling stages they ride. Can be used for chronic issues and those with severely compromised energy levels* The bag is very flexible in its use, it can be used as a sleeping bag, blanket and also opened out flat as a bed sheet. Included: 1 x Recovery Bag (inc plug & cable connections) 1 x Socket Tester 1 x Earthing Book Further information and sizes below.
Give the gift of Energy! We spend a third of our lives asleep so why not use this time to improve your health, wellness and vitality. Our Grounding Sheets gently discharge any detrimental voltages you may have induced during the day and welcome a beneficiary flow of free electrons into your body, meaning a more restful sleep and increased energy levels so you wake up feeling refreshed and energized. There is nothing better than getting into a soft, cozy freshly made bed. Well perhaps a soft, cozy freshly made Earthed Bed…Each of our 100% cotton sheets is made with your comfort and rest in mind. We thread a grid of soft silver fibers through each sheet. This grid and its connections link you directly to the earth. This link and the grounding effect it creates will make your bed even more tempting. Sleep Well. Sleep Earthed. Includes: 1 x Universal Size Half Sheet (including cable) / or Queen Fitted Sheet / or King Fitted Sheet 1 x Socket Tester 1 x Earthing Book 1 x Sleep Diary (downloadable PDF emailed after checkout) Grounding Sheet features: A no effort way to ground yourself. They provide a conductive...