Grounding Socks
Availability:
Out of stock
Don't get cold feet about being earthed.
Our Grounding Socks are designed to give you high levels of grounding whilst keeping your feet warm, cozy and comfortable.
Our Grounding Socks are made of high materials and have soft silver fibers interwoven throughout. These silver fibers connect you directly with any grounding product you place your feet upon. When used in conjunction with a Grounding Mat or Sheet the socks provide a conductive path from the Mat/Sheet to the foot. You can now slip off your shoes at work, have odor free conductive socks and feel comfortable about using the Grounding Mat under your desk.
In bed the socks enable the Earths input to spread over the whole foot/ankle, whilst keeping your feet warm.
The socks do not have a plug connection, they just have to make contact with an earthed surface or product.
Features of the Grounding Socks:
Each sock is interlaced with soft conductive silver fibers throughout. These fibers connect your feet directly with any grounding product they are placed upon.
Compatible with both Grounding Mats and Grounding Sheets and can be used in conjunction with any other grounding product
Antibacterial effects – silver is a wonderful anti-bacterial agent. Silver fibers are often found in plasters and bandages.
Anti-odor: Silvers anti-bacterial properties kill odor producing bacteria, leaving your Grounding Socks fresher for longer.
Silver is the most thermally conductive element on the planet. It quickly and evenly distributes heat throughout the socks enhancing the conduction of heat from the skin, meaning your feet stay cooler and more comfortable on hot days.
Help to minimize moisture and sweat contact with the foot – aiding in the prevention of Athletes foot and other issues.
Our Grounding socks are 76% cotton, 8% silver fiber, 14% nylon and 2% spandex.
Our Grounding Socks may look like a conventional everyday sock but they can provide both therapeutic and wellness benefits and still be very fashionable to wear. The properties of silver are the key.
Silver has the highest reflectivity rating of any metal element at 95% of radiative energy. Body heat loss is minimised by actively reflecting the bodies' energy back to the skin. Silver socks will be significantly warmer with added comfort in cold feeling conditions.
Athletes Foot (Candida Albicans) can be a problem between toes and in any damp within skin folds.
Silver destroyed 99.9% of Candida Albicans after only a few hours contact with the skin.
Sweat can cause odour, our socks can help combat this in as little as an hour.
Silver is a natural treatment and deterrent for the bacteria Staphylococcus Aureus (in 90% of patients with Atopic Dermatitis and up to 30% may develop acute infection), and may help with eczema and dermatitis. In the US over 31.6 million people suffer from Dermatitis and Eczema with insufficient natural body protection against infection and bacterial infections of the skin. Eczema and dry, cracked skin on the legs and between the toes caused by constant sweating and washing with detergents and antibacterial soaps may be helped by wearing silver socks. The anti mycotic medical properties of pure silver will eliminate within one hour 99.9% of bacteria resulting in an instant reduction of itching.
Silver also evenly dissipates heat therefore your feet will stay cool in the summer and nice and warm in the winter.
Athlete's Foot has pursued humans for centuries.
For the last 50 years the fungus has distributed its self throughout the European population. More than 26.5 million of the United States population is suffering from Athlete's Foot.
An alternative to creams, sprays or steroids - Silver Socks with natural silver fibre is the comfortable and new high technology method to fight Athlete's Foot and reduce bad foot odour.
The sock affects temperature regulation and acceleration of moisture evaporation the silver removes the base environment that the Athlete Foot bacteria requires to live this is: cool (less than 33°) and wet skin. Good improvement can be expected after 4 to 5 weeks.
Ease Eczema and Irritant Dermatitis
Socks with silver fiber technology can help to ease the itchy suffering on the legs, feet and between the toes and help to manage acute bacterial skin infections naturally.
Medium (fits size 7-10)
Large (fits size 11-14)
You might also like
Sleep Well. Sleep Earthed. During our lifetime we will spend over 226,760 hours asleep or just shy of 26 years! Now imagine how good we would feel if we could use that time to not only rest but actively improve our health and well being. Our Grounding Fitted Sheets let you do just that. They not only lull you into a deeper and more restful sleep but combat inflammation related disease, aid in the healing of injuries and sprains, improve compromised energy levels and promote a general feeling of wellness. Fitted sheet features: A no effort way to ground yourself. They provide a conductive connection with the earth during your 6 to 9 hours in bed each night, when the body repairs and regenerates. Grounding at night can provide better sleep so you wake up feeling rested and energized. Easy to use, fit just as you would a normal bed sheet. Provides whole body grounding. Pyjama friendly, will earth the entire body through simply having bare arms or feet. Made of a soft high quality cotton. Elasticated edges mean that the sheet will stay firmly where it is no matter how much you move. Made 5% larger than standard to combat...
Let Earthing sweep you off your feet! Our Grounding Foot Mats are the easiest and most flexible way of keeping yourself earthed. It's almost as easy as putting your feet up… Foot Mat Features: The solution to daytime and evening grounding, supporting daytime vitality. Easy to use and require no set up apart from plugging in. Unobtrusive, simply place your feet on the mat and you're earthed. Efficient and natural: The feet are the most sensitive part of the body when it comes to earthing. Our foot mats mimic how we would naturally earth ourselves by going barefoot. Ideal in the evening for resetting the melatonin (sleep) clock. Flexible - the foot mat can be used as a desk mat, can be sat on, lent on or used in any way you can think of. Compatible with grounding socks and can be used in conjunction with a cover for those who do not like rubber. It is crucial now, more than ever to help boost and support your immune system and earthing can do just that. This small investment in your health will go a long way. Further information and sizes can be found below.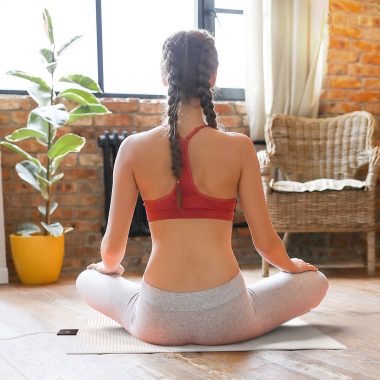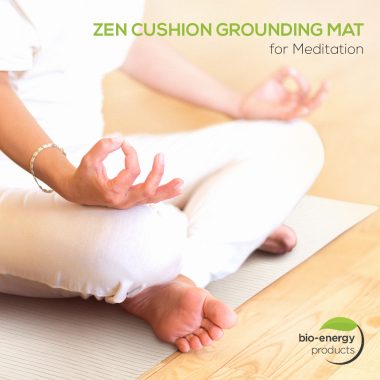 Best Sellers
Plush Pad Meditation Mat. Some of our customers have told us how much they want a soft padded grounding mat to sit, kneel, meditate or simply cuddle up with. Well here at Bio Energy Products, we always listen to our customers. Introducing our Plush Pad Meditation Mat, made from 100% cotton with a soft silver thread grid interwoven throughout. Our Plush Pad Meditation Mat is stuffed with some of the most luxurious filling we can find as has been designed with both your comfort and wellbeing in mind. Plush Pad Meditation Mat Features: The solution to daytime and evening grounding, supporting daytime vitality. Really easy to travel with. Made of 100% cotton. Very easy to wash. Soft silver thread grid interwoven throughout to ensure a strong connection. Individual grounding connection. Can be used in conjunction with any of our existing products. Perfect for meditation. Can be used as an animal bed so that your pets can experience earthing too. It is crucial now, more than ever to help boost and support your immune system and earthing can do just that. This small investment in your health will go a long way. Further information and sizes below.