Written Testimonies from our Valued Customers
Pennye Anderson - Spring 2020
The year was 1975. ( specifically the last day of 1974)
I had been married almost three and one-years. We had no children. My mind snapped. I completely lost touch with reality. Consequently , I spent two and one- half months in a mental hospital in Mobile, Alabama. I endured many electrical shock treatments, various drugs and group sessions. Nothing helped.
I left the hospital, severely depressed for a year- on the sofa- not engaged in life. Previously I had been a joyful, busy 26 year old wife , homemaker and teacher.
After leaving the Mobile hospital , I continued monthly appointments with the psychiatrist and consumed all the medicines he prescribed . Nothing helped. After a year, I ended the medical appointments and stopped taking all medicines.
Family and First Baptist friends never ceased to pray. Then the depression lifted and did not return until December of 1977. Our daughter was 3 months old. My sister kept her while I was in the mental unit of a Montgomery hospital for about a week.
In the mid 1980 's my depression began to cycle about once a year. Among other things, I tried light therapy, to no avail. After 3 months of taking various supplements and offering many prayers, my depression would lift. I would return to the joy- filled, active, engaged wife and mother of two children.( our son was born in 1981)
Then the worst ever attack of depression descended on January 13, 2017, it lingered and simply would not lift. Because none of my supplements were helping, I decided to find a doctor. Surely someone could help me, I reasoned.
Over the course of 2 years, I went to 5 psychiatrists ( 3 in Dothan and 2 in Birmingham). I had 8 sessions with a Birmingham psychologist . I spoke with a counselor in Pensacola and one in Montgomery.
In Destin, Florida I saw a functional doctor, in Gulf Breeze I had many appointments with an internist who did extensive blood work. In Andalusia, I had an appointment with a gynecologist. I tried yoga and B 12 shots. Various chiropractors sought to help me.
I was in the mental unit of a Birmingham hospital for 43 days. Four months after the hospital stay, I began various other treatments such as 30 magnetic stimulation treatments as well as 16 electrical stimulation treatments ( iasis ) . These were not electrical shock treatments. I had 14 Hocatt  treatments . I tried acupuncture  as well as acupressure . Several herbalists tried to help me. However , not one treatment, medicine , supplement or doctor could help me.
In 2018 I traveled 14,000 miles seeking help, not counting the medical trips in 2017.
Still my family and friends prayed for my healing. All of us wondered why, why could I not get well....Then after 2 full years of deep darkness and agony, a functional doctor in Montgomery suggested I try grounding. I had no idea what he was talking about but why not ? Nothing else worked. So I began my research. I learned grounding is also called earthing. I read the book, Earthing by Clint Ober, Steven T. Sinatra, MD and Martin Zucker. The grounding foot mat costs us $35. We do not even know how much money we spent during those 2 years of seeking healing and health. So what is $35 ?
My husband decided to use the mat as well. Now he takes no medicine for allergy problems.
As you read the book, you will be amazed at the blessings afforded through grounding. I realized all these testimonies could be false but for $35, I was willing to try grounding.
I have been well a year now. I put my bare feet on the mat every day. 30-40  minutes is long enough for most people. I do not recommend every company who sells grounding products. However , I highly recommend bioenergyproducts.com. Also one can order the various products via telephone with a credit card at 1-706-571-4999, central time between 9 am-3pm, Monday - Friday. Samantha or Fran are very helpful in answering questions.
How thrilling it is for me to experience healing everyday ! Guess what God uses ? His dirt !
Remember those prayers ? In His time, He chose to lead me to grounding. Many physical problems are alleviated  as well as depression .
Now if a person is not willing to ground every day, don't bother to buy the mat. This is a daily dose of dirt. It is true one can ground by simply placing bare feet in the grass ( damp grass is preferred ) or feet on concrete if it has not been treated or stained. Wet the concrete for best results. One may put feet in the damp dirt or sand.
The benefits of purchasing a mat relates to weather conditions and time constraints . I realized I would be more consistent if I used a mat. Daily is the key. Be careful to check your plugs since all 3-prong plugs are not grounded. A tester can be purchased for about $5.
Great, glorious grounding to each of you !
Pennye Anderson
Spring of 2020
Jamie ☆☆☆☆☆
October 2021 - "Results outstanding!"
"Let me just say the results of the products are outstanding, as well as the customer service! Even when there was confusion on my part as I received my order...Fran took it upon herself to correct the situation, and on her own dime! Bless her"
Lilly ☆☆☆☆☆
August 2021 - "My doctor said I can cut my meds by 65%!"
"Totally amazing!! I have been grounding for approx. a month now using the pad in my car when driving, but mostly the wrist/long cord setup every evening mostly while watching news/films on the tv for about 4+ hours each night. I also use while I am on our desk computer (do not work full time), and sometimes while I am cooking in the kitchen (wrist/long cord) but that is more fussy. My doctor just confirmed I should cut my thyroid meds by just over 65%! And I also recently noticed an improvement in my vision! More time needed on that. I am very pleased...thrilled honestly... and look forward to getting more great health results. Also, there are plenty copies of this type of product out there but I will stick with this company. Thank you Bio Energy!"
Caroline ☆☆☆☆☆
July 2021 - "Let the healing begin!"
"Just received my sheet and mat.. lovingly packed by Bioenergy complete with a thank you! I am looking forward to a wonderfully grounded future. Let the healing begin!"
Art ☆☆☆☆☆
June 2021 - "Swelling improving!"
"I have had issues with lower legs and feet swelling for several years. After using a grounding pad for a few days I noticed the swelling was really improving. Now I keep a pad on the floor in front of my computer so my feet are on it while I'm online. I love my grounding pad."
Healthy Booklet ☆☆☆☆☆
May 2021 - "Super friendly and helpful!"
"Just called customer service about my order status and chatted with Fran.
She was so super friendly and helpful and a delight to chat with! I am looking forward to getting my products."
Katrina ☆☆☆☆☆
January 2021 - "Great Products!"
"Great products and great service. The half sheet has really helped my pain.
It is much improved. Can't wait to get more products!"
Jessica ☆☆☆☆☆
September 2020 - "My pets love it!"
"When I first put this sheet on my bed, my old dog and cat both immediately wanted to be on it too! I take that as a good sign."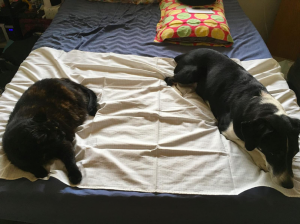 Destinie

 ☆☆☆☆☆
July 2020 - "Couldn't recommend this company enough!"
"Not only do I think that the mat I bought here is great, but the customer service is amazing. I bought a mat and it was lost during the shipping process (no fault of theirs) and they made sure to follow up with UPS all the way through to make sure I was refunded and in the mean time, sent another mat so I could get started on my wellness journey. This mat is great quality and I've definitely noticed a difference in my sleep and overall well-being. Couldn't recommend this company enough!"
Trish

☆☆☆☆☆
January 2020 - "I would advise any MS sufferer to try it!"
"I have PPMS and have been earthing since July 2019 with excellent results. I was diagnosed 2011 and have been following Overcoming MS diet from the beginning. In 2018 I was introduced to Michael Cawley and have been taking high levels of Vit D since.
When I started earthing I had to reduce my Vit D intake and turn down my Electronic Stimulator that helps me walk. Earthing has enabled me to sleep better and manage my MS easier. I would advise any MS sufferer to try it!"
Britta

☆☆☆☆☆
December 2019 - "super friendly and helpful and a delight to chat with!"
"Just called customer service about my order status and chatted with Fran. She was so super friendly and helpful and a delight to chat with! I am looking forward to getting my products.
I have already used a grounding sheet for about four weeks now and feel a huge difference in my energy level and sleep quality, and much reduced inflammation. Now I am looking forward to the yoga mat and a few smaller mats to use around house. Thank you Bio-Energy!"
Laura

☆☆☆☆☆
October 2019 - "Erased my skepticism in one week!"
"I had heard about earthing products but was skeptical. Then some family members tried the sheets and reported improved sleep. I have been waking up at night for years, and with increasing frequency. Usually I could go back to sleep right after. Lately, I would stay awake an hour or more. So I tried the sheet. I'm happy to report that in the first week, my uninterrupted sleep has stretched to five and sometimes seven hours. Then I go right back to sleep. My husband has also had improved sleep. I am very happy with the results thus far!" 
Kristen

☆☆☆☆☆
July 2019 - "I am no longer suffering from insomnia & reduced medication"
"Since using your grounding sheet / mat I am no longer suffering from insomnia. I took your advice and had my doctor re-take my blood pressure after 1 month of grounding and he has reduced my blood pressure medication as it is improving naturally!" 
Jodie

☆☆☆☆☆
June 2019 - "the quality is great"
"Not only do I love this product, but my dog and cats love it too! The half sheet is plenty big enough for my queen bed. The cord for the ground is also more than long enough. The quality is great! And the customer service is incredible - thank you so much for all your help"
Urszula

  ☆☆☆☆☆
April 2019 - "outstanding customer service"
"I just purchased a 4th earthing pillow case. Even though it's been only a few days since we have used them, we are sleeping soooo much better! We also appreciate the outstanding customer service that you provide. Thank you!"
Amanda

  ☆☆☆☆☆
February 2019 - "so soft and fits perfectly"
"I've been searching for a grounding sheet for a while and found them very expensive. I ran across this one on the internet and after looking at the price, I thought I'd try it. I'm so happy I did. My husband and I have noticed a great difference in how we sleep and how we feel upon waking. The sheet is so soft and fits perfectly across our bed. You can't go wrong with this half sheet. Highly recommended!"
Kevin

 ☆☆☆☆☆
February 2019 - "noticed an improvement right away"
"Started using my grounding sheet about 3 days ago..noticed an improvement right away..I slept better, did not wake up at night, my girlfriend was a skeptic, the first night she never snored, slept through the night ..we both feel better."
Darren

 ☆☆☆☆☆
February 2019 - "Easy to use and it actually WORKS!! Well worth the money!!"
"I'm new to earthing and this half sheet has really opened my eyes to the concept. Ever since I put this on my bed the quality of my sleep is through the roof! Before using this earthing sheet I had forgotten what a full nights sleep was! I almost NEVER slept all the way through the night, but I do now! Cannot recommend this awesome half sheet any more, if I had to. Easy to use and it actually WORKS!! Well worth the money!!"
Roger

 ☆☆☆☆☆
January 2019 - "I have noticed that I sleep more soundly"
"I have just recently been learning about earthing and all of the health benefits it offers. I decided to order the earthing sheet to find out for myself. So far I have noticed that I sleep more soundly which is worth a lot since that is the time your body repairs and rebuilds itself. I am looking forward to more benefits in the future as I continue to use it."
Britney

 ☆☆☆☆☆
January 2019 - "Having insomnia felt like a form of torture, and grounding made it get better"
"After trying many things that failed (amber colored light bulbs, sun lamp, melatonin, chamomile, valerian, lavender essential oil , blackout curtains, P5P, magnesium, blue light filters, a weighted blanket, turning off electronics at least 1 hr before bedtime, going to bed earlier, and a new mattress) sleeping on this grounding half sheet got me to sleep without using a sleeping pill on the first night! Praise God!!! And I slept the 2nd, 3rd, 4th, and all the nights since it arrived on 11/9/18. Placebo? I don't think so. Having insomnia felt like a form of torture, and grounding made it get better. Is my sleep 100% better? No. Closer to 85% better, but I'll take it, and it's only been a week. I expect improvements to continue. I also use a grounding mat at my feet when working on the computer all day."
Dennis

 ☆☆☆☆☆
December 2018 - "Totally amazing"
"I am a well controlled diabetic on insulin. Within a week of earthing, my insulin requirements are down about 50%. Totally amazing."
Tiffany

 ☆☆☆☆☆
December 2018 - "within 2 weeks the pain is gone"
"Impressed. Had back pain from a fall for months. Within 1 week the pain was significantly reduced and within 2 weeks the pain is gone. Although when sitting on hard chairs I still feel it a little, I have no doubts these sheets were the reason. Also, finally sleeping through the night."
Alice

 ☆☆☆☆☆
December 2018 - "my aches are becoming fewer"
"Really enjoying this. The fabric is very soft and stays in place when laid across the bed and tucked in on the sides. Have been sleeping better and my aches are becoming fewer!"
Matt

 ☆☆☆☆☆
November 2018 - "Definitely sleeping better"
"Definitely sleeping better, deeper, more soundly, and falling asleep more quickly. Also noticed less stress throughout the day. Less angst about the clock dictating where I need to be every hour.
Recommending it to friends and plan to purchase one for my mom. I started out with it across the bottom of my bed for my legs and feet. But after my first washing I decided to put it lengthwise so it's under my whole body. I've noticed a positive difference having it under my whole body."
Emily

 ☆☆☆☆☆
November 2018 - "significant relief immediately"
"I let my daughter borrow my grounding mat. She lives in an apartment with strong wifi everywhere and solar panels on the roof  which is right above her bedroom. She turned out to be highly sensitive to EMF and she said felt significant relief immediately! She told me she could reach a relaxed meditative state much quicker, and just felt way more coherent and balanced energetically any time she made contact with the mat. When I visited her, I too could feel the contrast between being on and off the mat. Her dad stopped in for a short visit and we asked him to try standing on the mat. He was immediately more grounded, even as he appeared to us - I can't explain exactly what I was "seeing" or how I was sensing it, but whenever he stepped on and off the mat there was clearly something different about his presence in that room. So, guess what everyone's getting from me for Christmas this year?!"
Would you like to submit your review?