>
>
Grounding Hand Mat and Mouse Mats
Grounding Hand Mat and Mouse Mats
Don't be all fingers and thumbs, let grounding give you a helping hand into wellness.
Our Hand/Mouse Mats are an easy way to become earthed and are perfect for those with localized hand/wrist issues such as arthritis.
Hand/Mouse Mat Features:
Localized healing – Our Grounded Hand/Mouse Mats are specifically designed to target hand and arm issues such as; Arthritis, Carpel tunnel syndrome, RSI as well as sprains and strains.
The solution to daytime and evening grounding, supporting daytime vitality.
Small, lightweight and easily stored.
Unobtrusive and simple to use, just plug in and you are ready to go.
Flexible – Can be used as a Hand mat, Mouse mat, Single foot mat, Back pad or any other way you can think of.
It is crucial now, more than ever to help boost and support your immune system and earthing can do just that. This small investment in your health will go a long way.
Further information and sizes below.
The Mat works by inducing a safe and gentle flow of free electrons from the earth into your body. These electrons neutralize any harmful positive electrical charges in the body, charges which can be the cause of many inflammation based health issues and have a detrimental effect on your health and wellbeing. Our Mat is designed to work by itself or in conjunction with other earthing products to promote increased vitality, good health and a general feeling of increased wellness.
Our Mats are made of a high quality rubber infused with conductive carbon. This creates a pleasant slightly textured feel which is not only nice to touch but easily cleaned and makes a perfect surface for using computer mice.
The mat measures 10" x 8" and comes complete with a US Plug as standard as well as all the cables and connections you need to get earthed right away.
You might also like
Protecting you and your family from invisible everyday dangers. Stay healthy whilst staying connected. It's a fact that we are all becoming more and more reliable upon electronic devices in the course of our everyday lives, whether this is your computer at work, your cell phone, your tablet or your home laptop. All of these devices emit radio frequency signals, either Wi-Fi, 4g / 5g or a simple mobile phone signal. These signals have long been thought to be harmful to our health and it seems that more and more often we hear of major health issues being attributed to our dependence on these wireless devices. In the past the only way to insulate yourself from this danger would be to turn off your devices and only use them sparingly. Now while this remains the best way of protecting yourself it isn't always practical. Using our EMF shield is the balance between staying healthy and staying connected and removes your exposure to these harmful signals.
All our products are designed to work in tandem with the earth connection found in household wiring. Our Socket Testers will simply and easily show not only if your wall socket is earthed but if both the live and neutral connections are correctly wired. Features of the Socket Tester: Very easy to use - simply plug the tester in and turn the socket on. Easy to read display. Will check the safety and wiring configuration of any socket it is plugged into. Will work Internationally with an earthed travel adapter
Earthing: The Most Important Health Discovery Ever? is probably one of the most eye-opening and health supportive books to appear in decades. Earthing introduces the planets powerful, amazing and overlooked natural healing energy and how people anywhere can readily connect to it: by walking barefoot and when not possible using indoor equivalents. The never-before-told story-filled with fascinating research and real-life testimonials-chronicles a discovery of the first magnitude with potential to create a global health revolution Audio CD of the Earthing Book Not a big reader? Why not listen to the book instead of reading it. Our Clint Ober Earthing Book audio CD is the perfect accompaniment for bedtime listening, commuting or those long cross-country drives we all do occasionally. The CD is recorded in an MP3 format so is perfect for listening on your laptop or in the car so you can listen on the go.
Related Products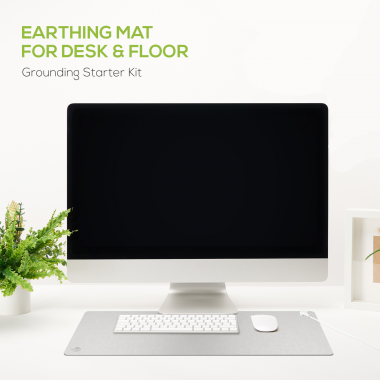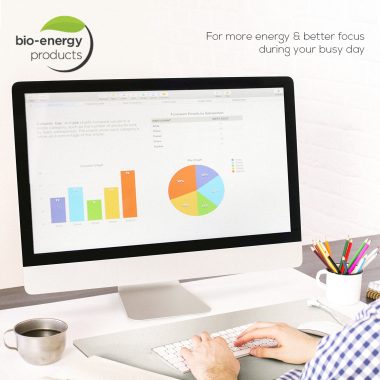 17%
Why not work on your wellness, whilst at work! Our Grounding Desk Mats provide a smart, professional, unobtrusive method of keeping yourself earthed whilst at work. They are made out of high quality durable rubber infused with conductive carbon. The mats provide a smart and professional way of grounding your entire body with the minimum amount of fuss or disruption. Desk Mats Features: The solution to daytime and evening grounding, supporting daytime vitality. High quality finish giving a subtle and professional look. Easy to use - simply place on your desk and plug in. Provides efficient, stress busting grounding all day. Helps improve mood, focus and productivity. Can be used as a Mousemat. It is crucial now, more than ever to help boost and support your immune system and earthing can do just that. This small investment in your health will go a long way. Further information and sizes can be found below.