Grounding Pet Beds and Mats
Did you know that our pets can also suffer from many of the same conditions that we face as we age.
Just as people may suffer from bronchitis, colitis, arthritis, tonsillitis or a range of other inflammatory conditions, so too can your pet.
Inflammation is the body's immune response against foreign substances, injuries or infection.
Shouldn't we be sharing the benefits of Grounding with all our loved ones?
Does your fur baby suffer from anxiety and stress during storms? Studies show that grounding activates the parasympathetic nervous system resulting in enhanced relaxation, while lowering cortisol levels and reducing stress!
Eliminate the huge expense from –
Medication
Surgery
Therapy
Luxury beds and pads
Vet bills
**Not suitable for heavy chewers**
We want to help your local shelters
We are now working with our local dog shelters and vets to donate mats to dogs and cats that have undergone surgery, in the recovery process or are suffering from joint pain and inflammation. If you would like us to donate a mat to your local shelter on your behalf you can select this option in the drop down. The Shelter address must be provided at checkout and it must be a registered shelter or veterinary surgery. The cost of each mat donated is reduced by 50% as reflected in the drop down. Bio-Energy will cover the costs for the remaining 50%.
Pet Mat Features:
Our Mats are made of a high quality rubber infused with conductive carbon. This creates a pleasant feel which is not only nice to touch but easily cleaned and makes a perfect non-slip surface.
Crate Mat Sizes
Small: 20" x 13"
Medium: 24" x 17"
Large: 30" x 18"
XL: 36" x 22"
XXL: 42" x 24"
You might also like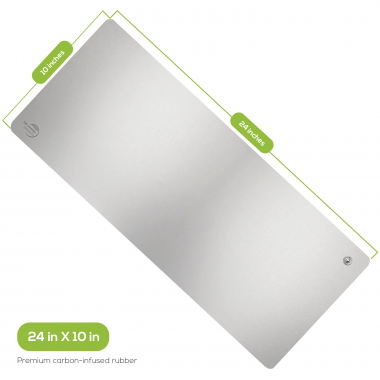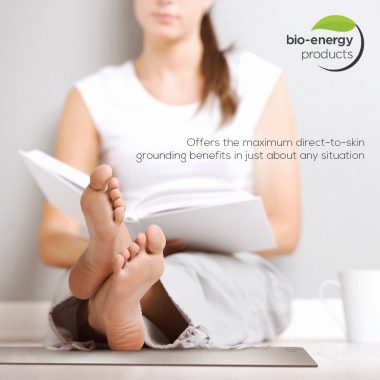 Best Sellers
5%
0 review(s)
Let Earthing sweep you off your feet! Our Grounding Foot Mats are the easiest and most flexible way of keeping yourself earthed. It's almost as easy as putting your feet up… Foot Mat Features: The solution to daytime and evening grounding, supporting daytime vitality. Easy to use and require no set up apart from plugging in. Unobtrusive, simply place your feet on the mat and you're earthed. Efficient and natural: The feet are the most sensitive part of the body when it comes to earthing. Our foot mats mimic how we would naturally earth ourselves by going barefoot. Ideal in the evening for resetting the melatonin (sleep) clock. Flexible - the foot mat can be used as a desk mat, can be sat on, lent on or used in any way you can think of. Compatible with grounding socks and can be used in conjunction with a cover for those who do not like rubber. It is crucial now, more than ever to help boost and support your immune system and earthing can do just that. This small investment in your health will go a long way. Further information and sizes can be found below.
0 review(s)
Don't let getting from A to B, drive you round the bend. Introducing our Car Pads. These products are designed to gently discharge any electrical pulses you build up whilst travelling by car, making you feel more relaxed, alert and less fatigued. The Car Pad is a simple conductive seat pad which gently drains off excess electrical charge from the body. This charge can cause much of the fatigue and stress related issues we encounter whilst driving. Conductive carbon particles built into the pad gently discharge any detrimental charges from the body into the cars chassis. The net result is a lower burden on the body's nervous system. Drivers report feeling calmer, more alert, and less fatigued whilst driving. Car grounding may even reduce symptoms that electrically sensitive individuals typically experience in the car. Features of the Car Pad/ Mat Easy to fit. Helps keep you calm and focused at the wheel. Helps to prevent fatigue and aches caused by long journeys. Uses a coiled stretchy cable for safety. Is compatible with all makes and models of car. It is crucial now, more than ever to help boost and support your immune system and earthing can do just that....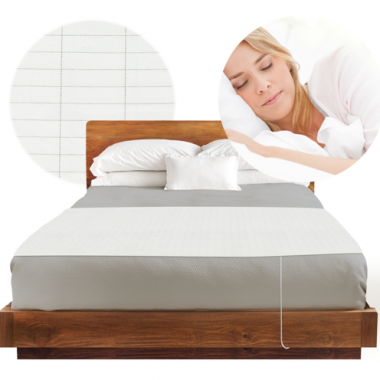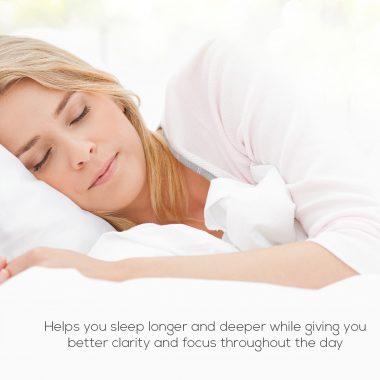 Best Sellers
0 review(s)
Sleep Well. Sleep Earthed. Options include: 1 x Half Sheet (with cable) & 1 x Standard Pillow Case* (with cable) 1 x Fitted sheet (Q, K,  with cable) & 2 x Pillow Case* (no cable) *the fitted sheet bundle and the children's bundle do not come with cables for the pillow cases. These must make direct contact with the sheet allowing the pillow cases to be fully conductive. During our lifetime we will spend over 226,760 hours asleep or just shy of 26 years! Now imagine how good we would feel if we could use that time to not only rest but actively improve our health and well-being. Our Grounding  Sheets let you do just that. They not only lull you into a deeper and more restful sleep but combat inflammation related disease, aid in the healing of injuries and sprains, improve compromised energy levels and promote a general feeling of wellness. Our Half/Travel Sheets are designed to fit easily into a suitcase and travel with you no matter where you go. Combine these with our extensive range of travel adapters and you can keep earthed no matter where you are in the world. It is crucial now, more than...