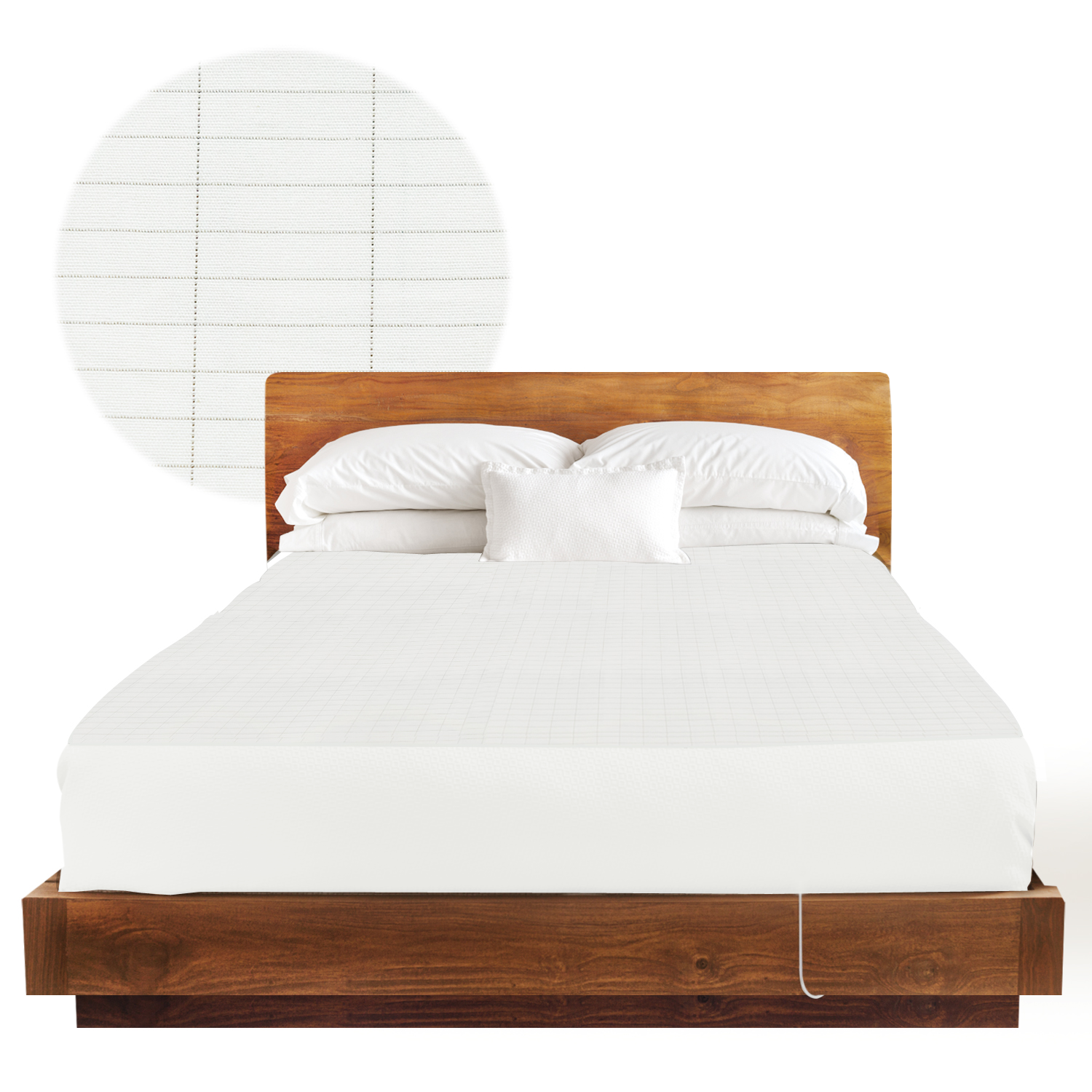 Grounding Sheets – So much more than just beauty sleep
We spend a third of our lives asleep and we think, why not use this time to improve your health, wellness and vitality. Our Grounding Sheets gently discharge any detrimental voltages you may have induced during the day and welcome a beneficiary flow of free electrons into your body, meaning a more restful sleep and increased energy levels so you wake up feeling refreshed and energized.
There is nothing better than getting into a soft, cozy freshly made bed. Well perhaps a soft, cozy freshly made Earthed Bed…Each of our 100% cotton sheets is made with your comfort and rest in mind. We thread a grid of soft silver fibers through each sheet. This grid and its connections link you directly to the earth. This link and the grounding effect it creates will make your bed even more tempting.
Our Sheets are available in sizes Queen, King, California King and Universal Half Size and come in both fitted and travel varieties so that you can get a wonderful night's sleep no matter where you are. We also have a recovery bag designed with sportsmen and those with compromised energy levels in mind.
Please use the links below to discover our sheets for yourself.
Package includes: 1 x Mini Mat 1 x Half Sheet Tablet Time = Grounding Time Nowadays everything we do revolves around technology and the use of cell phones, tablets, laptops and more. The same goes for our children. We're living in a world where there are so many dangerous frequencies that are detrimental to our health, and it's so important, now more than ever, to look out for our little loved ones, as they grow up in this Tech-World we live in. We're introducing a new rule – "sure you can use your tablet to watch a show or play some games. But the one rule is…. your tiny toes have to be on the Grounding Mat!" The solution to daytime and evening grounding, supporting daytime vitality. Easy to use and require no set up apart from plugging in. Unobtrusive, simply place your feet on the mat and you're earthed. Efficient and natural: The feet are the most sensitive part of the body when it comes to earthing. Our foot mats mimic how we would naturally earth ourselves by going barefoot. Super durable so even if a drink gets spilt, or your child decides to be an artist with a...