>
>
Grounding Plush Pad Meditation Mat
View cart
"Grounding Half Sheets - Universal Size" has been added to your cart.
Grounding Plush Pad Meditation Mat
Availability:
27 In stock
27 in stock
Plush Pad Meditation Mat.
Some of our customers have told us how much they want a soft padded grounding mat to sit, kneel, meditate or simply cuddle up with. Well here at Bio Energy Products, we always listen to our customers. Introducing our Plush Pad Meditation Mat, made from 100% cotton with a soft silver thread grid interwoven throughout. Our Plush Pad Meditation Mat is stuffed with some of the most luxurious filling we can find as has been designed with both your comfort and wellbeing in mind.
Plush Pad Meditation Mat Features:
The solution to daytime and evening grounding, supporting daytime vitality.
Really easy to travel with.
Made of 100% cotton.
Very easy to wash.
Soft silver thread grid interwoven throughout to ensure a strong connection.
Individual grounding connection.
Can be used in conjunction with any of our existing products.
Perfect for meditation.
Can be used as an animal bed so that your pets can experience earthing too.
Further information and sizes below.
| | | |
| --- | --- | --- |
| Product  | Width | Height |
| Plush Pad | 30 inches / 76cm | 20 inches / 50cm |
All of our Grounding Plush Pad Meditation Mats come complete with a US Plug as standard as well as all the cables and connections you need to get earthed right away.
You might also like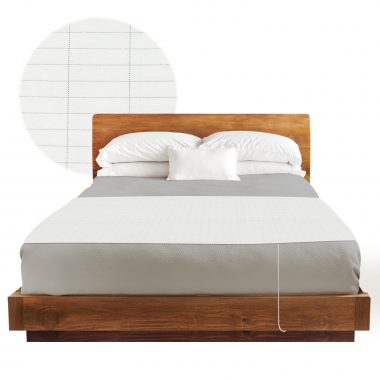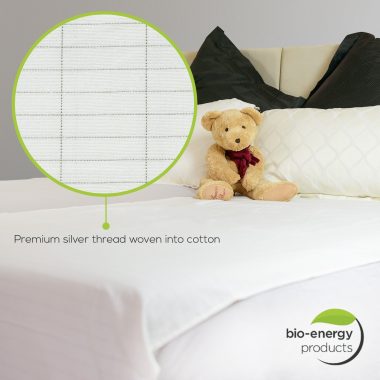 Best Sellers
27%
Travel not only broadens the mind, but now heals the body. Our Half/Travel Sheets are designed to fit easily into a suitcase and travel with you no matter where you go. Combine these with our extensive range of travel adapters and you can keep earthed no matter where you are in the world.
Introducing our most natural and versatile grounding connection. There are 2 ways to connect your grounding product, via a plug socket or with a Grounding Rod. Our Grounding Rods provide a simple, easy and natural way of becoming earthed, when going barefoot outside is not an option. Perfect for travelling, camping, and RVing. The Grounding Rod is the perfect solution for those who choose not to/are unable to use a mains socket connection. The Grounding Rod connects directly with any existing grounding system you have and simply replaces the mains connection in that system. Features of the Grounding Rod The most natural and direct way to earth yourself - using less wiring and connections than a standard wall socket and house connection. Can be used in any country. Is compatible with all of our products - simply replacing the wall plug. Perfect for camping, RVing and for those who cannot use a wall socket connection. Simple and easy to install. Very hard wearing - Made of high grade aluminium, whilst the cables are made of braided steel with a durable plastic coating. This means the cable can be led outside and withstand the window being gently opened and closed on...
Related Products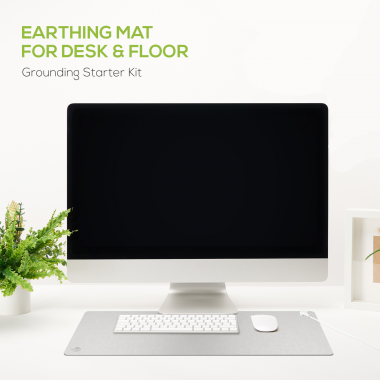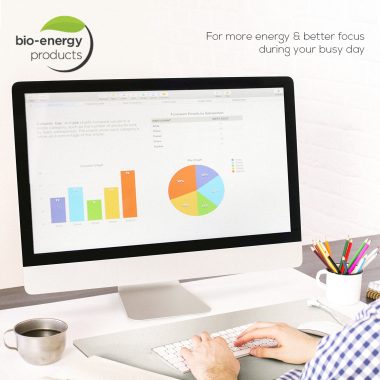 17%
Why not work on your wellness, whilst at work! Our Grounding Desk Mats provide a smart, professional, unobtrusive method of keeping yourself earthed whilst at work. They are made out of high quality durable rubber infused with conductive carbon. The mats provide a smart and professional way of grounding your entire body with the minimum amount of fuss or disruption. Desk Mats Features: The solution to daytime and evening grounding, supporting daytime vitality. High quality finish giving a subtle and professional look. Easy to use - simply place on your desk and plug in. Provides efficient, stress busting grounding all day. Helps improve mood, focus and productivity. Can be used as a Mousemat. Further information and sizes can be found below.